Nearly two years on, AutoApp finds itself in a unique position where others seemed to have fallen by the wayside. How did we get to a place where others have faltered and failed?
---
In 2019, Alvin, Joel, and myself got together to create a first and last-mile car aftersales solution that is known as AutoApp today. Besides being family men leading impossibly busy lives, we each were the 'go-to' guys in our own circles of family and friends when it came to all-things cars.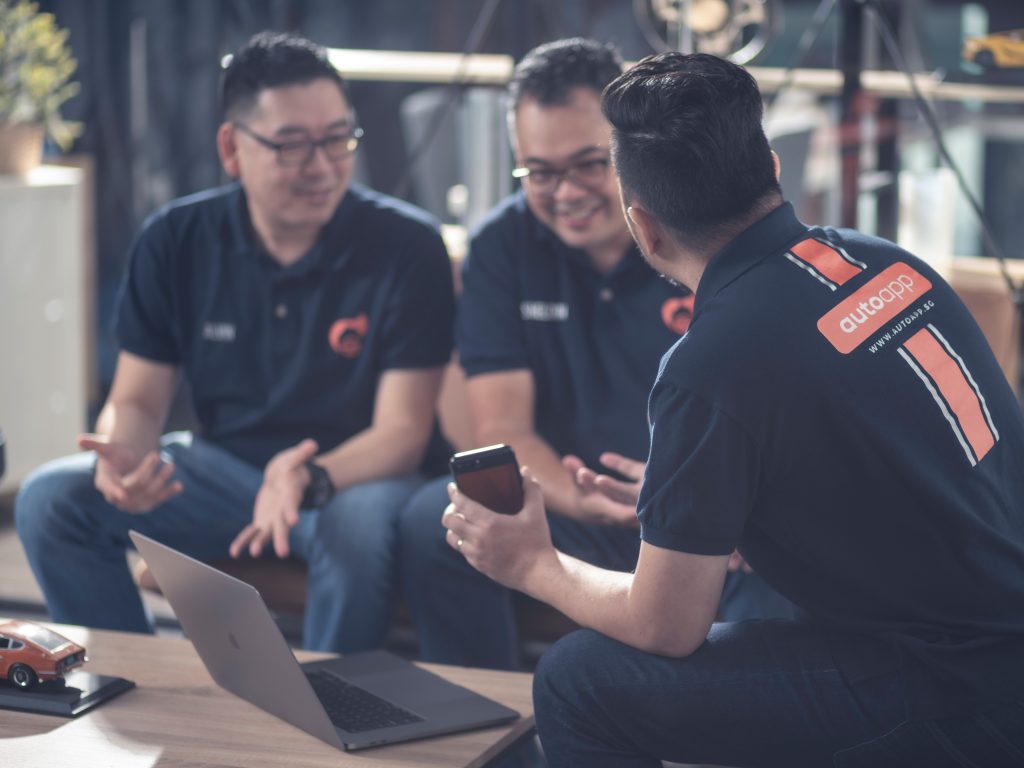 Whenever anyone we knew sought car advice; "Which car should I buy next?", "Where's the best place to repair my car?, or "Help! I've just got into an accident…" we had a solution for just about any problem our friends came to us with, as we were somewhat well connected in the car industry from our jobs as automotive journalists and aftersales management.
Then, there was the hassle of having to take time from our already-busy schedules for mundane tasks like car inspections or periodic servicing, and waiting for our cars to be ready was simply not a productive way to spend time.
Seeing an opportunity to help other car owners, we set out to create an app where owners could outsource their car-related chores with just a few taps on their smartphones. After all, we use our smartphones for just about everything else. 
On our journey to creating AutoApp, some friends would reach out to us if they had come across similar services. It soon dawned on us that what we were creating was actually not new. Others had already come and gone. Worryingly, there was even a well-funded international conglomerate that had just arrived in Singapore, just as AutoApp was taking its first, furtive steps. On the horizon, industry insiders also told us of at least two other apps that also aiming to disrupt the car aftersales scene.  
Spoiler alert — as far as we know, these other car aftersales startups that were better-resourced and established than us have quietly exited the local market. As the only ones standing, AutoApp finds itself in unchartered territory. To borrow a phrase from the iconic Sci-Fi franchise, Star Trek, our mission now is: "To boldly go, where no one has gone before…"
One of our most significant encounters was an opportunity to meet the founder of an app that was close to what AutoApp would be about. Let's call him Dave, for the sake of this article.
By the time we met Dave, he had exited the market years before. These days, he is focused on the FinTech sector, but was generous enough to share his experiences of where he went wrong. 
Takeaways 
Although the path ahead seems fraught with failed ventures and burgeoning behemoths ready to snuff us out, we choose to look at these 'threats' as case studies that would help shape AutoApp into a model that would not suffer the same folly as others before us. These are the main takeaways we learnt.
1. Know thyself 
It may sound patently obvious, but having a deep understanding of the environment you are operating in is probably the most crucial step. Yet, the founder of the defunct app we spoke with admitted that nobody in his team knew much about cars or the automotive industry. Rather, they were a team of coders who approached the car aftersales business from an analytical perspective. Numbers don't lie, right? Well, evidently they don't tell the complete story either. 
Many companies, especially automotive manufacturers and dealers, like to take the approach of hiring talent from outside the industry in the interest of looking at things with a "fresh pair of eyes". What usually happens then, is that these businesses end up being managed by individuals with no passion for their brands. Worse still, is the tendency to think that a car is just a product that is no different from a burger, or mattress, or smartphone. It's all the same to them. 
While this management style can offer some advantages like better objectivity, the brand tends to lose its soul in the process. If you're transactional with the brand, long term plans like growing your next generation of customers can be difficult to achieve. 
The biggest problem with Dave's app was that nobody on his team even owned a car or could even drive! How could they understand the needs of car owners, let alone the nuances of customers who own different types of cars? 
As for the operations team of AutoApp, I can honestly say that we live and breathe cars. We grew up reading and learning about cars, and have dedicated our careers to this craft. We make it a point to hire professionally-trained service advisors to be our Service Ambassadors who pick-up cars from our customers' doorsteps and return them when their cars are serviced.  
2. Protect your ecosystem
The other problem with Dave's app as well as others is that they served as aggregators rather than service providers. They were effectively directories that made it easy for car owners to find the right workshops for them. However, once that connection is made, the customer has little need for the app again. If the app did a good job, the customer would have found a workshop for life. And if they didn't have a good experience, they wouldn't be inclined to use the app again. It's a lose-lose proposition. 
The comprehensive end-to-end solution that AutoApp offers is the hard part, but it sets us apart from these aggregators. Not only do we find the right workshops for their cars, the nature of our service saves our customers the hassle of decision fatigue. Sure, you could Google for the best workshops near you, but chances are, there'll be a ton of listings that all claim to be the best. The customer then has to spend more time to research and decide. 
Once the customer experiences the convenience of AutoApp, they'll never want to send their cars in themselves again. This is evidenced by our 100% record of 5-star customer reviews and over half of them have used our service twice in the last 12 months.
3. Keep it small
Almost all our competitors boasted thousands of workshops to choose from in their directories. While this might seem impressive, it also leads to the aforementioned decision fatigue for the customer. Worse still, these apps don't start with a customer base that is large enough to support all these listings. Workshops then soon grow weary of supporting these apps since it hardly sends any business their way and give up on supporting them altogether. 
AutoApp takes a more conservative approach in selecting workshops for our network. We would rather work with a smaller network but send a higher volume of business to these preferred workshops. This incentivises operators to offer better quality and value for our customers.
4. The secret 'sauce'
Many startups and investors obsess over the 'secret sauce'. Is there a part of the business model is proprietary? While this is understandable, there are also many successful businesses don't rely on a singular technology or process that gives them an edge. Two examples come to mind.
The first is Ya Kun Kaya Toast. This iconic chain of coffee shops has been serving Singapore since 1944 with their simple but satisfying toasted bread with butter and kaya, sock-brewed coffee, and soft-boiled eggs. The menu has expanded over the years, but these core products are arguably still their best-selling items. With some practice, anyone could make coffee, kaya toast, and soft-boils eggs that taste as good as Ya Kun's.
Although the Ya Kun business model is theoretically easy to replicate from a product standpoint — and it has a few competitors — it is still the most recognisable local-style coffee stall chain by a long shot. (No pun intended.) 
At the other end of the spectrum is the Ritz Carlton chain of hotels. The opulent furnishings and design of its resorts are copied and even outclassed by some of its competitors.
Yet, the Ritz Carlton is regarded as an industry benchmark for quality service that its guests can't get enough of. What's the secret to their success? Instead of jealously guarding it, their operating principles, known as The Gold Standards are proudly published on their website.
And just like Ya Kun and The Ritz Carlton, the secret of AutoApp is that, there is no secret. Instead, we believe in conducting business in an open, honest and transparent way because it builds trust amongst our customers and service provider partners. It boils down to a willingness to work with passion, have an intimate understanding of our business, and to put our customers' interests first.